CHIROPRACTIC CARE
It is truly ideal that people of ages and sizes get adjusted. We all have a nervous system and we need to make sure that the nervous system is functioning at 100%. Chiropractic is the only thing that can ensure that. While we see lots of families (from a couple days old to 90 years young), Dr. Nicole specializes in prenatal and pediatric care by earning her certification through the International Chiropractic Pediatric Association.
PRENATAL CARE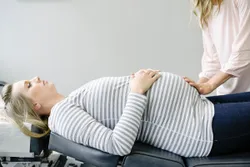 Pregnancy is a fantastic time to either continue chiropractic care or to initiate care. With our nervous system being the control center of the body, it is crucial to make sure proper nerve flow and function is getting to every part of the body and baby. Chiropractic care has many benefits during pregnancy, including:
relief of aches and pains;
decreasing intrauterine constraint;
allow for proper positioning of baby;
more efficient labor;
and many more!!
Dr. Nicole is certified in the Webster Technique, which is a chiropractic technique that promotes optimal baby positioning by aligning the spine and pelvis. The ICPA has research showing the when a chiropractor utilizes the Webster Technique, a baby can turn from the breech to head down position. We have seen it in our office time and time again!
PEDIATRIC CARE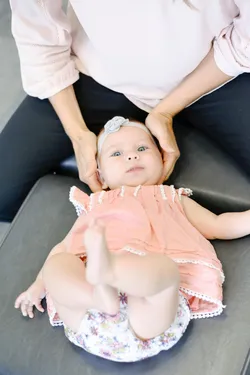 More and more parents are bringing their babies and children into a chiropractor. Whether it's spinal maintenance or alleviation of symptoms, children respond so well to chiropractic care.
The biggest benefit is that child will have a properly functioning nervous system (aka control center!!!) that is working at 100% as baby grows and develops. While we do not "treat any symptoms", we have had parents bring their babies in for the following reasons and have seen great results with: resolution of colic, ear infections, sleep disturbances, constipation, gassiness, breast feeding issues, torticollis, improper crawling technique, fussiness, body rigidity, etc. Yet, you don't need symptoms in order to require an adjustment!
A baby can have a spinal misalignment due to various causes, including:
Intrauterine Constraint—e.g. tight, restrictive living quarters in mom's belly;
Labor—whether born unassisted vaginally (& coming out at 70mmHg pressure) or csection, labor can be beautiful, but traumatic;
Developing milestones—wobbly head as baby perfects head control; falling from learning to sit; & taking tumbles as baby learns to walk
As you can see in the video below, an infant adjustment is gentle and low-force. Some kiddos even sleep through it!