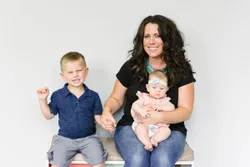 Dr. Nicole has been a tremendous asset and support to the overall health and wellness of our family. She is gentle and thorough while adjusting, patient with wiggly kids, and avails herself to consult and provide guidance regarding other matters of wellness. Regular visits to her office have made all the difference and we have sincerely benefitted from being under her care. Our family has and will continue to recommend her for sound and trustworthy chiropractic care.
- The S Family
---
We come to Olson Chiropractic to achieve a balance in our family's overall health. It is a very welcoming environment where we can receive care that helps us maintain our well-being. Chiropractic care has helped our family through so many different aspects of life, from basic care to pregnancy, newborn/infant care to childhood sleep issues. Chiropractic care helps our family achieve an overall healthy balance in all stages of life.
- The K Family
---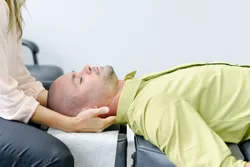 I visit Olson Chiropractic because Dr. Nicole Olson helps me with my active and healthy lifestyle. Often, I am very hard on my body and mind due to my level of physical activity as well as my profession which leads to stress, soreness, and an occasional injury. Dr. Olson does a very good job with communication, explaining what she is doing, and why. I always look forward to my appointment, and believe that she is contributing to my overall well being!
- Dustin
---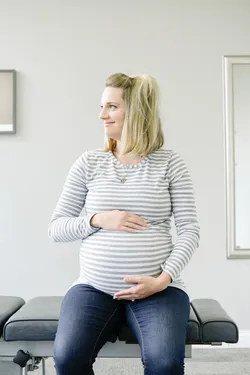 Dr. Nicole has been a blessing in my life! I first started seeing her due to lower back pain. She made me feel so comfortable and answered all of my questions. When I became pregnant, Dr. Nicole supported me through all of the wonderful changes and aches my body was experiencing. If I had questions or concerns or just needed advice, she would take time out of her busy schedule to make sure to answer them all. I absolutely adore Olson Chiropractic and recommend them to anyone who is looking to improve their quality of life or anyone even thinking about chiropractic care.
- Natalie
---
I started seeing Dr. Nicole towards the end of my pregnancy with my son. I had never seen a chiropractor before and although I wasn't sure what to expect, I was tired of dealing with the constant back pain that accompanies the end of pregnancy. From the very beginning Dr. Nicole put me at ease, both mentally by thoroughly explaining the benefits of chiropractic care, safety in regards to pregnancy and what exactly I could expect, as well as physically. From my very first adjustment my back felt better and therefore I felt better overall. Fast forward 6 weeks and my little boy was born all natural, less than 4 hours and 2 pushes after arriving at the hospital. I firmly believe that not only did Dr. Nicole help me to feel better and enjoy the final weeks of my pregnancy, but she also put everything inline and in place to allow for a quick and seamless labor experience. Because my body was adjusted and where it should be, it was able to carry out what it was made to do quickly and smoothly. Thank you, thank you, thank you, Dr. Nicole!!!
- Holly F.
---
My personal testimonial about chiropractic care and Olson Chiropractic! Chiropractic care has always been a huge part of my life. I have suffered from migraines for several years, and seeing a chiropractor on a regular basis has been a huge help for me. The last few years I have been struggling with some rib issues and chiropractic care has been a huge help for that as well! I will say, it takes finding the RIGHT chiropractor for it to help though. Dr Nicole has been an amazing chiropractor for me. Her techniques have really helped the issues I have had. I also find it really important to have a chiropractor who cares, something else that Dr Nicole excels at. She has always squeezed me in on days when I didn't have an appointment but was really hurting, she has been great at working with me, and always has such a positive attitude when you talk to her. I thoroughly enjoy my visits to her office, not only because I leave feeling so much better physically but also because I enjoy the conversations we have and I leave feeling better mentally. She doesn't just ask the typical 'how are you' questions, she asks specific questions based on things you have talked about in prior appointments – it really shows that she listens to you and doesn't just do the typical 'getting through the appointment' type conversation. Dr Nicole is an amazing chiropractor and I am so thankful to have found her!
- Amber C.
---
Our family would like to thank you for helping Ellie. After her visit, she has slept throughout the night for the first time in two weeks. We appreciate everything that you are doing to help her!!
- Heath P.
---
Dr Nicole is awesome at what she does. Very friendly and concerned about your well being. Wouldn't ever go to a different chiropractor. smile emoticon would recommend anyone to her!
- Kaly F.
---
I highly recommend Olson Health Chiropractic to everyone. From babies to elderly Dr. Nicole is fantastic with any age. I have been coming to Olson Health Chiropractic for a couple of years now and can't say enough great things about the practice. Dr. Nicole has such a kind, caring personality and loves what she does.
- Holly N.
---
LOVED Dr. Nicole. She has helped my husband and I tremendously and I will be taking my newborn to her when she returns as well!
- Mallorie K.
---
Dr. Nicole has treated my 13 month old since she was 3 months old. I have no doubt that she is the reason that my daughter has been healthy her first year of life (despite attending center-based childcare where children are sick all of the time). Dr. Nicole shows that she truly cares about her patients and does not hesitate to adjust my fast moving daughter as she wanders around the room. Thank you for keeping my daughter healthy and happy!
-Melissa S.
---
I was recommended to Olson Chiropractic by a friend. Dr. Nicole is fantastic! She is very informative about all aspects of treatment. It's nice to have a doctor who incorporates all aspects of life and not just their specialty. I would recommend her to anyone looking for a great chiropractor!
-Brittany A.
---
Dr. Nicole has helped extinguish pains and aches throughout my body that I didn't even realize were there to begin with until they were gone.
-Afton H.
---
Dr. Nicole has helped not only me throughout my pregnancy and low back pain, but she now adjusts my daughter frequently. We both benefit greatly from routine adjustments.
-Jessica F.
---
Dr. Nicole is a Godsend for me! I endured years of painful stomach issues resulting from a sensitive nervous system. I spent thousands of dollars on tests all showing everything looked "normal" but I was still in so much pain. As a young mother of two little girls (ages 1 & 3) I was facing long days of not wanting to play with my kids. It was a struggle to even take care of them some days. I was missing out on so much because I NEVER felt good. I was beyond frustrated and on the verge of depression. I went to see Dr. Nicole and I told her about the issues I'd been having. She took the time to LISTEN to me (which was half the battle with medical doctors), and gave me an adjustment based on what I'd shared with her. I was a little skeptical anything would help me but I was AMAZED that evening when my pain subsided. That was September and it has not returned since. Dr. Nicole healed me physically but also did so much more for me. I feel like myself. I enjoy playing with my kids again and they no longer have to ask if my tummy hurts. I see Dr. Nicole regularly for adjustments to keep my back aligned and strong, but It's so wonderful knowing who I will go to for help if my stomach pain ever strikes again. She has a true gift for chiropractic care!
-Brooke G.
---
Dr. Nicole is AMAZING!!! I started coming in to see Dr Nicole after falling down my stairs, twice within a couple week of each other. Once while carried a child to bed and the other I hit the front of the stair. I thought I could fix it myself, or the pain would go away on its own. Boy was I wrong. I started to come in 2 times a week to get everything back to where it should be. Once I left after the 1st week I could move my neck from side to side with out wincing. My back and shoulder were so much better. She is a miracle worker.
I have continued to see Dr. Nicole for other issues as well. I started running this summer, and about 2 weeks into running, my knee was hurting so bad and it would swell up after running. She said she would look at it and adjusted it a couple times and I have not had any issues since.
She is an AMAZING Dr. and more an AMAZING person. She is very good at what she does and she gets to know every patient as if they were part of her family. If you are looking for somewhere to go where your not just an appointment - This is the place to go!!!
-Abbie S.